Jizo with Wishing Stone – Sodalite
Little Jizo with a wishing stone helps send wishes of good will to yourself or another person. Inside each Jizo there's an unique round, flat semi-precious stone, Ø 3cm / 8mm thick (approx.)
Jizo was a Buddhist monk who chose to dedicate his life helping, comforting and protecting others.He is patron of children, travellers, pilgrims and expectant mothers providing ease whenever necessary. He helps all to find the right path before, during and after this worldly life.
Statues of Jizos with gems in their hand inspired us to make this Jizo with wishing stone.
Take the wishing  stone in your hand, directing warm wishes of good will to yourself or someone you'd like to send them to. Say the words to yourself mentally or out loud, and see if you can find the phrases that most resonant for you.
Here are the phrases I learned from Sylvia Boorstein:
May I feel safe, May I feel happy, May I feel strong
May I live with ease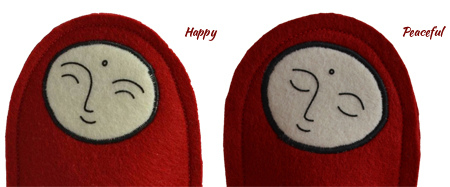 Bewaren
Bewaren
Jizo contains one "wishing stone" approx. Ø 3 cm:
Choose the stone you'd like in your Jizo. The Jizo comes with an accompanying text with a suggestion for practice:

Reviews
No reviews found...
Recently viewed